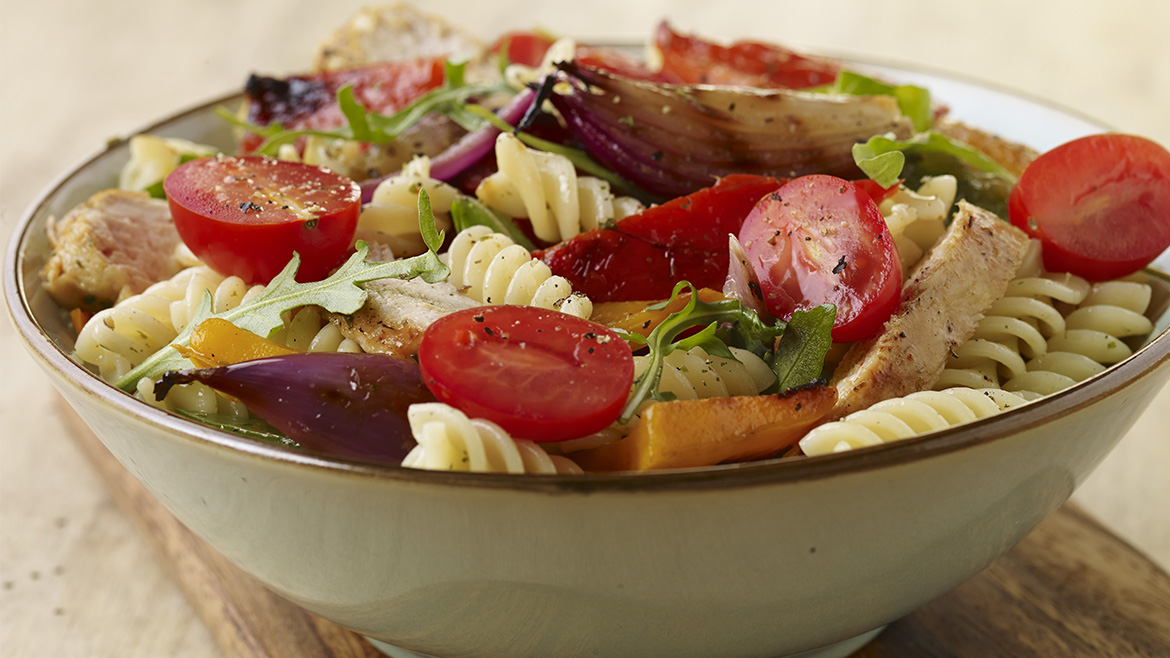 Chicken and Pasta Salad
A signature pasta salad recipe, great as appetiser for any meal!
15 min

Preparation Time

45 min

Cooking Time

6 Serv.

Recipe Serves
Ingredients & Method
KNORR stock cubes are made from real ingredients, blended with a special mix of spices, all combined into a cube. Ideal as a soup base for all soup preparation & a variety of dishes.
1 Red Pepper (deseeded and sliced)
1 Red Onion (thinly sliced)
3 tbsp Olive Oil
300g Penne or Fusilli Pasta
4 Chicken Breasts
1/2 KNORR CHICKEN CUBE
2 tbsp fresh chopped Thyme and Oregano
Pinch of Fried Chilli Flakes
2 Garlic Cloves (finely minced or chopped)
150g packed Cherry Tomatoes (cut in halves)
A handful of fresh Rocket Leaves
A large drizzle of Vinaigrette Dressing
Mix the onions and peppers with 1 tbsp olive oil and roast for 20 minutes at 200°C. (Alternatively, sauté mixture in a pan for 15-20 minutes while stirring occasionally.)
Cook pasta al dente following packet instructions. Drain and put aside.
Make a paste from KNORR CHICKEN CUBE, remaining olive oil, herbs, chilli and garlic. Rub the chicken all over with paste.
Heat the grill or griddle pan. Barbecue or cook chicken for 5 minutes on each side. Cool the chicken so it becomes possible to handle. Slice the meat.
In a bowl mix together pasta, onions and peppers, chicken, cherry tomatoes and rocket leaves. Finish with vinaigrette dressing.
Serve warm or cold.
Find out what's everyone saying