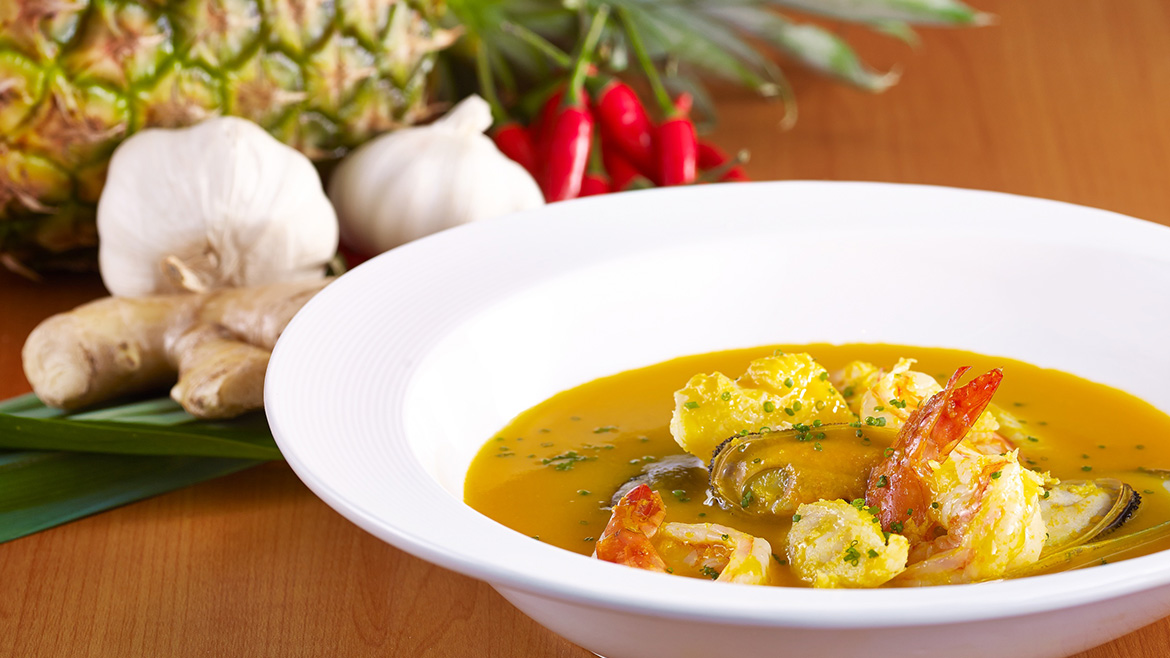 Prawns & Fish in Tropical Soup
This soup is both sweet and savoury as the seafood and fruits complement each other. Have you ever tried seafood in a fruity soup base?
15 min

Preparation Time

20 min

Cooking Time

4 Serv.

Recipe Serves
Ingredients & Method
KNORR stock cubes are made from real ingredients, blended with a special mix of spices, all combined into a cube. Ideal as a soup base for all soup preparation & a variety of dishes.
200g Dory Fillet
100g Prawns (de-shelled)
2 Lime Leaves
2 Mussels
1 stalk of Pandan Leaf
1 stalk of Lemon Grass
FRUITY SOUP BASE INGREDIENTS:
100g Yellow Bean Paste
50g Ginger
40g Onion
30g Cocktail Onion
20g Garlic
60g Tomatoes
2 Chilli Padi
1 ring of Pineapple
1 Lemon (squeeze to Juice)
2 tbsp plum Sauce
1 tbsp spice Mix
1 tbsp Sugar
1/2 cup orange Juice
1/2 cup Carrot Juice
1 tbsp KNORR HAO CHI ALL-IN-ONE SEASONING
Orange Zest
Mint Leaves
Boil water with KNORR FISH CUBE to obtain a clear fish stock.
Blend the fruity soup base ingredients in a blender until fine.
Add the blended mixture to the fish stock, together with pandan leaf, lime leaves and lemon grass. Simmer until fragrant and strain fruit stock mixture.
In a new pot, bring fruits stock mixture to a boil again. Add prawns, mussels and dory fillet.
Cook for 5 minutes. Adjust seasoning with KNORR HAO CHI ALL-IN-ONE SEASONING.
Garnish with orange zest and mint leaves.
Find out what's everyone saying