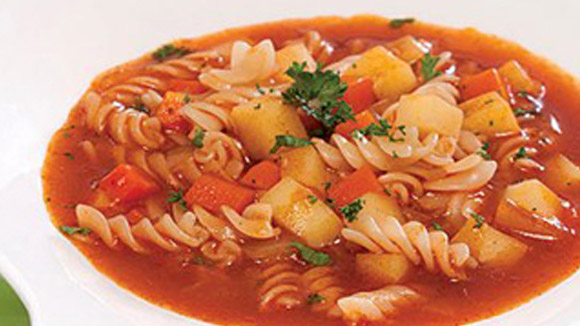 Hearty Tomato and Vegetable Soup
We love the smell of warm hearty tomatoes in this veggie soup. This can be a quick lunch treat with pasta fusili in it!
15 min

Preparation Time

30 min

Cooking Time

4 Serv.

Recipe Serves
Ingredients & Method
KNORR stock cubes are made from real ingredients, blended with a special mix of spices, all combined into a cube. Ideal as a soup base for all soup preparation & a variety of dishes.
1/2 tsp Oil
1 Onion (chopped)
6 Garlic Cloves (chopped)
3 cups of chicken stock made from 2 KNORR Chicken Cube
3 cups of canned ripen Tomatoes
2 medium Carrots (cut into small cubes)
2 Potatoes (cut into cubes)
1/2 cup (50g) Pasta Spirals
Seasoning to taste
Parsley (chopped for garnish)
Cream to finish (optional)
Sauté onion and garlic in oil.
Pour stock and tomato sauce into pan, bring to simmer, add carrots and potatoes.
Cover and cook for 20 minutes while stirring occasionally.
Remove lid, add pasta to soup and cook until pasta is al dente.
Serve with bread.
Find out what's everyone saying