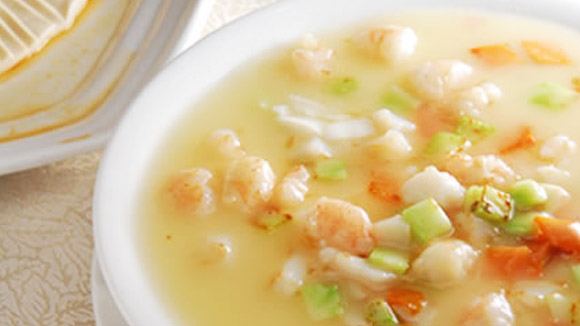 Chinese Soup with Juicy Shrimp
This homely soup is really easy to make. For a quick meal, you can even pair it with rice to eat it as a soupy porridge!
15 min

Preparation Time

20 min

Cooking Time

4 Serv.

Recipe Serves
Ingredients & Method
KNORR stock cubes are made from real ingredients, blended with a special mix of spices, all combined into a cube. Ideal as a soup base for all soup preparation & a variety of dishes.
12 Peeled, deveined, diced medium Shrimps
4 Thin slices of ginger
1 Blocked tofu, cubed
2 Finely chopped green onions
2 tbsp Vegetable oil
2 Minced garlic cloves
2 Finely diced celery stalks
1 Finely diced carrot
1-2 cups Fish Stock made from KNORR FISH CUBES (1 KNORR FISH CUBES in 2 cups of water)
1 tsp Black pepper
Heat the vegetable oil in a wok or skillet, and fry the shrimps until pink then set aside.
Fry the ginger, garlic, and green onions until fragrant.
Stir in the carrots and celeries, and sauté until tender.
Add the stock, just enough to cover the vegetables and simmer for 6 minutes.
Add the tofu and simmer for 3 minutes.
Stir in the cooked shrimps.
Add black pepper, and then add a tiny bit of sesame oil into the soup.
Ladle into bowls and serve hot.
Find out what's everyone saying