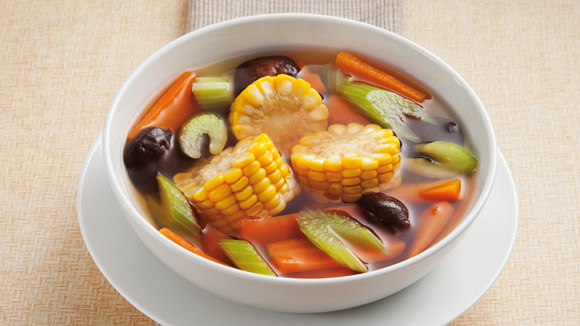 Original Mixed Vegetable Soup
Veggie lovers? This is the soup for you. Remember to add in a Knorr Vegetable Cube to step up the flavours of this light healthy soup!
15 min

Preparation Time

15 min

Cooking Time

4 Serv.

Recipe Serves
Ingredients & Method
KNORR stock cubes are made from real ingredients, blended with a special mix of spices, all combined into a cube. Ideal as a soup base for all soup preparation & a variety of dishes.
2 KNORR VEGETABLE CUBES
2 Medium size potatoes, cut into wedges
1 Sweet corn, cut into 4-5 pieces
2 Medium size carrots, cut into wedges (about 6-7 pieces)
50 Shiitake mushrooms (or Button mushrooms)
3 Ribs of celery, cut slant into 2 inches sections
1 Litre water
1 Spring of coriander (garnish)
Crispy fried shallot flakes (garnish)
Bring water to boil in a pot.
Add sweet corns, carrots, celeries, potatoes and mushrooms into the pot and bring to boil.
Add in 2 KNORR VEGETABLE CUBES, reduce heat and simmer for 10 minutes.
Garnish with some coriander leaves and fried shallot flakes. Enjoy!
Find out what's everyone saying