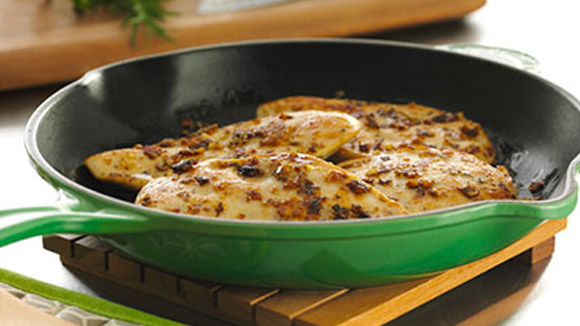 Herb-Rubbed Citrus Chicken Breasts
Fancy something a bit different for this weekend's dinner? Herb-Rubbed Citrus Chicken Breasts would be a good choice. The herb citrus rub also works well with other meats such as turkey or pork chops.
5 min

Preparation Time

10 min

Cooking Time

4 Serv.

Recipe Serves
Ingredients & Method
KNORR stock cubes are made from real ingredients, blended with a special mix of spices, all combined into a cube. Ideal as a soup base for all soup preparation & a variety of dishes.
4 boneless, skinless Chicken Breast halves (about 560g)
1 KNORR CHICKEN CUBE (crumbled)
1 tsp Dried Oregano Leaves (crushed)
1/2 cup Orange Juice
1 tbsp Apple Cider Vinegar
2 Garlic Cloves (mashed)
2 tbsp Olive Oil (divided)
Rub chicken on both sides with KNORR CHICKEN CUBE and oregano.
Combine orange juice, vinegar, garlic and 1 tbsp (15ml) of olive oil in re-sealable plastic bag.
Add chicken and turn to coat. Close bag and marinate in refrigerator for at least 30 minutes.
Remove chicken from marinade and discard marinade.
Heat remaining 1 tbsp of olive oil in large skillet over medium-high heat and cook chicken, turning once until chicken is thoroughly cooked (approximately 8 minutes).
Find out what's everyone saying