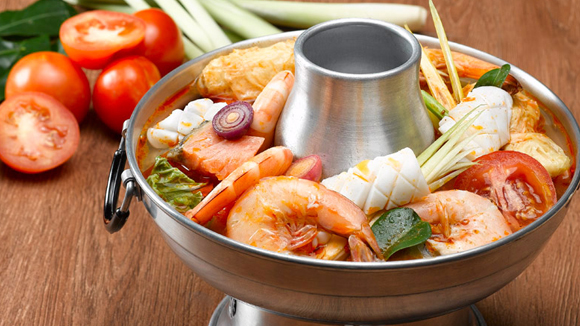 Tom Yam Steamboat Soup
Having Chinese New Year family steamboats in mind? This is one half of the recipe to a good Yuan Yang Pot to spice up your celebratory feast!
10 min

Preparation Time

30 min

Cooking Time

4 Serv.

Recipe Serves
Ingredients & Method
KNORR stock cubes are made from real ingredients, blended with a special mix of spices, all combined into a cube. Ideal as a soup base for all soup preparation & a variety of dishes.
STEAMBOAT STOCK
2 KNORR TOM YAM CUBES
2200ml Water
80g Spring onion bulbs (lightly smashed)
3sprig Coriander root
3 Lemongrass (thinly sliced to halves)
4 Lime leaves (smashed)
1tbsp Olive oil


STEAMBOAT INGREDIENTS
1cup Straw mushrooms
100g Long bean
50g Ripen tomatoes
100g Assorted seafood (mussels, scallops and fish fillets)
8 Fresh prawns (Clean and trim off the whiskers)
Heat up a pot with olive oil, lightly fry the shallots and spring onion bulbs a light brown.
Add in 2 KNORR TOM YAM CUBES and the rest of the ingredients for steamboat stock.
Bring it to a boil, add in the fresh prawns and simmer for 5mins or until the prawns turn bright red.
Add in the rest of the steamboat ingredients and be ready to serve in 5mins.
Chef John See's Flavour Tip:

Do add in the prawns only when the soup base is boiling so as not to overcook the prawns.
Find out what's everyone saying