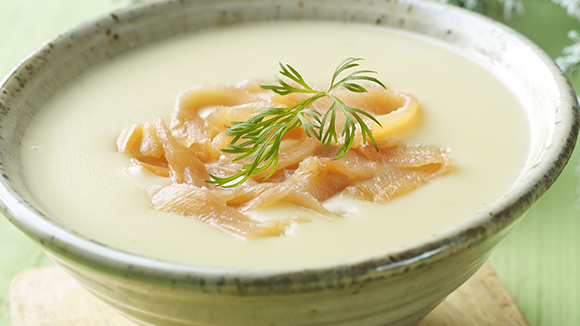 Potato Soup
An ideal soup to warm you up that will give you a lovely homely feeling!
10 min

Preparation Time

35 min

Cooking Time

6 Serv.

Recipe Serves
Ingredients & Method
KNORR stock cubes are made from real ingredients, blended with a special mix of spices, all combined into a cube. Ideal as a soup base for all soup preparation & a variety of dishes.
2tbsps Olive oil
2 Medium onions, chopped
Fresh rosemary twig
1 clove Garlic, roughly chopped
6 Medium potatoes, peeled, chopped
1l Vegetable stock made from KNORR® VEGETABLE STOCK CUBE
25ml Double cream (or cream)
50ml Milk
100g Smoked salmon, finely chopped
Freshly ground pepper to taste
Chopped chives for a garnish
Heat oil in a heavy non-stick pan over medium high heat. Add onion and rosemary twig and cook for about 6–7 minutes. Add garlic and cook, stirring for 5 more minutes. Do not burn.
Add potatoes and cook for 5–7 minutes, stirring. Add stock. Bring to a boil, then reduce heat to low and simmer, uncovered, for about 20 minutes or until potatoes are tender.
Remove the rosemary and blend in food processor until smooth. Sprinkle with pepper. Serve with smoked salmon and chives as a garnish.
Find out what's everyone saying