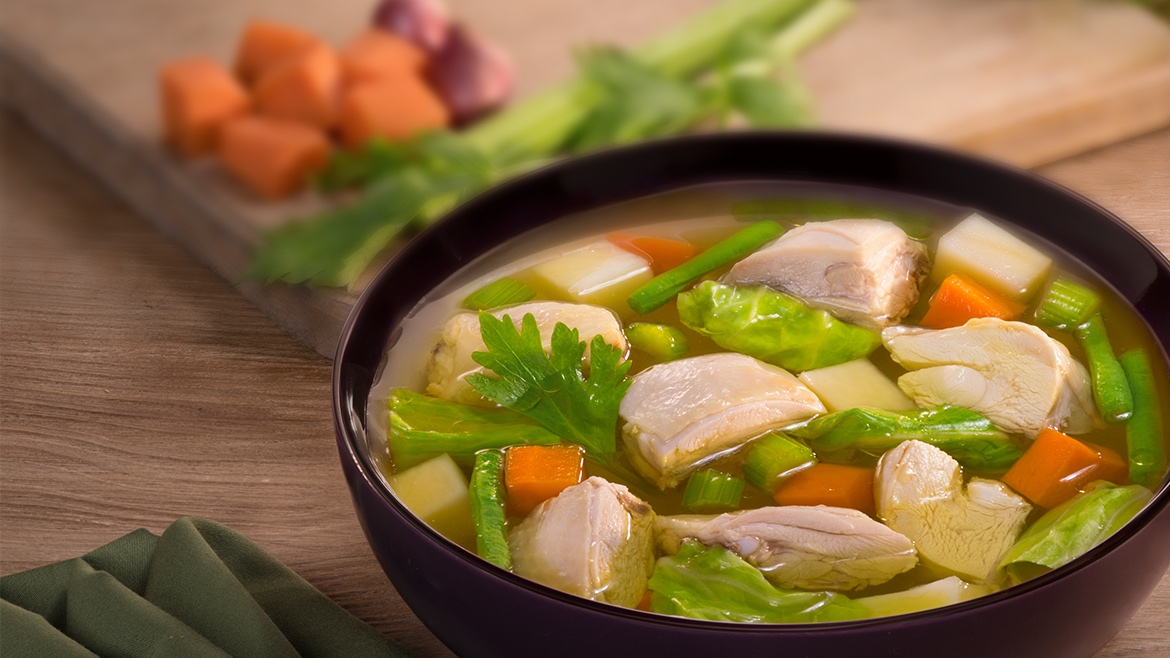 Signature Chicken Soup
Chicken soups are common but achieve a great flavourful one with ease using Knorr Chicken Cube!
5 min

Preparation Time

20 min

Cooking Time

4 Serv.

Recipe Serves
Ingredients & Method
KNORR stock cubes are made from real ingredients, blended with a special mix of spices, all combined into a cube. Ideal as a soup base for all soup preparation & a variety of dishes.
150g Carrots (peel, clean and cut into bite size)
150g Potatoes (peel, clean and cut into bite size)
100g White/round cabbage (clean and cut into 4x4cm)
50g String beans (clean and cut into 3cm strips)
300g Chicken breast (boiled in 1000ml of water)
2 stalks (15g) Spring onions (clean and thinly sliced)
1 stalk Chinese celery (clean and coarsely cut)
1 KNORR CHICKEN CUBE
8g Salt
2g White pepper
1 Garlic (peel and slice)
2 Shallots (peel and slice)
20g Margarine
Boil chicken breast in the water with 1 KNORR CHICKEN CUBE until the meat is cooked. Remove, cool and cut into small dices.
In a separate pan, heat margarine and fry garlic and shallots until fragrant
Add into the chicken broth; potato then carrot and string bean and cook until soft. Add the cooked chicken dices back.
Season with salt and white pepper.
Garnish with spring onions and Chinese celery. Serve hot!
Find out what's everyone saying