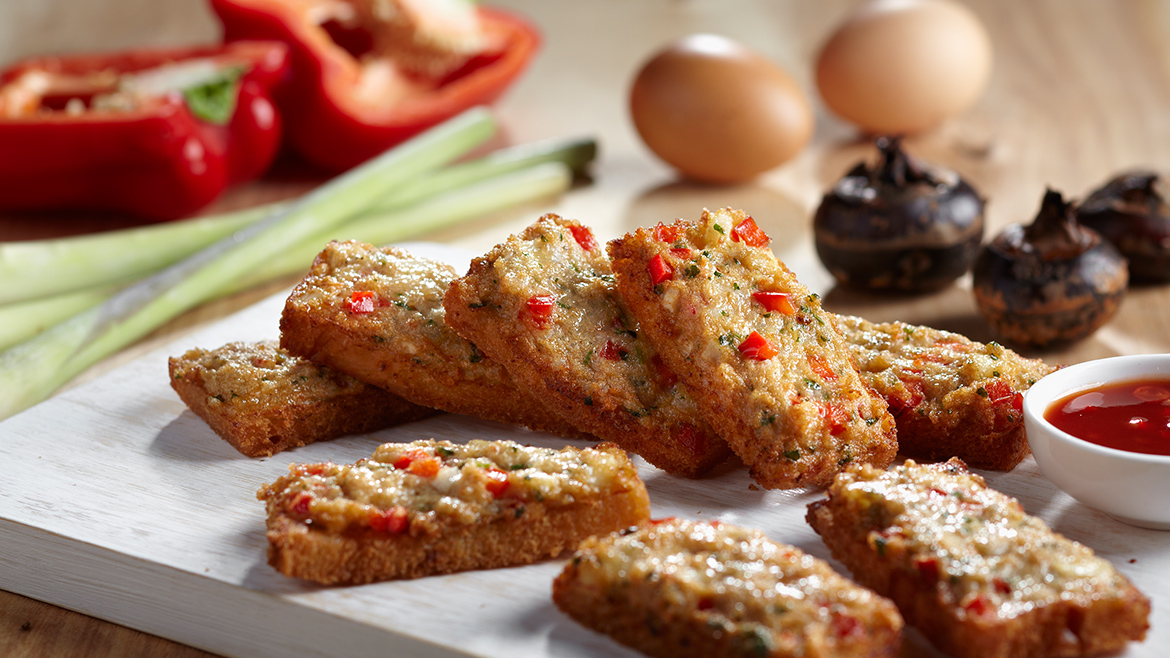 Tom Yam Shrimp Toast
Here is a creative way to make a crowd-pleasing dish with the signature sour and tangy flavor of Tom Yam on toast! Simple yet delicious!
15 min

Preparation Time

30 min

Cooking Time

4 Serv.

Recipe Serves
Ingredients & Method
KNORR stock cubes are made from real ingredients, blended with a special mix of spices, all combined into a cube. Ideal as a soup base for all soup preparation & a variety of dishes.
6 pieces of thin slices sandwich bread
20 Shrimps (peel & deveined)
100g Mince pork
3 tbs Corn flour
1 egg
10 water chestnut (wash, peel and dice it up)
1 red capsicum (dice it up)
2 tsp grated ginger
2 tsp fish sauce
Kaffir Lime Zest (1/2 tsp)
1 piece Knorr Tom yum cube mix with 100ml hot water
parsley for garnish
white pepper to taste
roasted sesame seeds (optional)
Oil for deep frying
Sweet thai chili sauce or truffle oil mayonnaise for dipping
Add shrimps, pork, egg, ginger, cornflour, tom yum seasoning, fish sauce, kaffir lime zest into a food processor, pulse until almost smooth, you may need to scrape the bowl down with a spatula to make sure there's no big pieces of shrimp left. It will give you a chunky paste when its done. Add dice water chestnut and red capsicum and pepper into the mixture., mix it up. If you do not have a food processor, you may use a knife to mince the shrimps and mix everything into a mixing bowl by hands or using gloves.
Trim away the sides of the bread (the crusts will burn when you fry itleaving the crust on will have it burnt when you deep fry) Cut the bread into your desired shapes and sizes, rectangle or triangle are my preferred choice.Spread about 1 tbs of shrimp mixture on the bread (depending on the size you cut) Be generous with the spread so that with every mouthful you get the taste of the shrimp mixture. sprinkle some roasted sesame seeds on the shrimps toast (optional)
Fill the pot with 1/3 of oil for deep frying. Make sure the oil is very hot, test the temperature by using a small bread crust, you should see bubbles if its ready.
Add the toast to deep fry, shrimp side down. When the edge of the bread starts to brown means its time to flip, not more than 3 mins per side to have golden brown crust. Remove and transfer to kitchen towel to drain away the access oil.
Serve with sweet thai chili sauce or truffle oil mayonnaise
Find out what's everyone saying