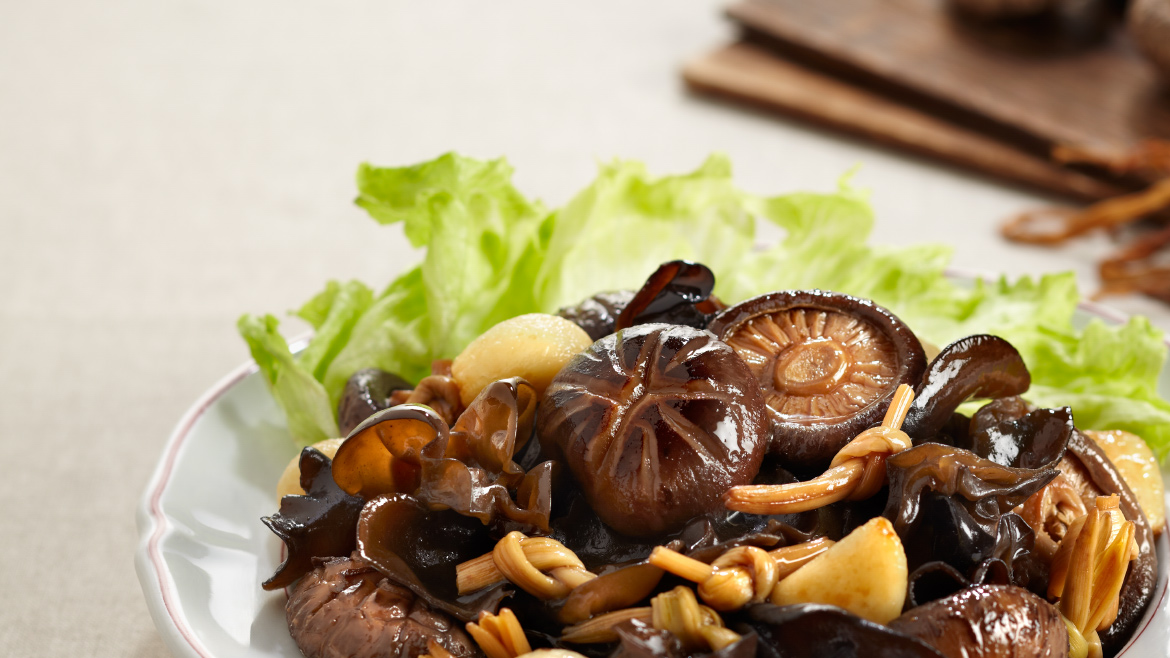 BRAISED MUSHROOM WITH GOLDEN LILY BUD
Our flavourful dish with mushrooms and chinese herbs would be great for serving with rice for dinner.
30 min

Preparation Time

45 min

Cooking Time

4 Serv.

Recipe Serves
Ingredients & Method
A complete All In One Seasoning Solution made with all the essential cooking condiments that guarantees to give all dishes a delicious full-flavoured taste.Can be used for cooking stir-fry vegetables and meats. Available in 100g and 300g pack sizes.
Dried shitake mushroom 16, whole
Oil 1½ tbsp
Dried lily flower 15 g, soaked and knotted in the center
Black fungus 10 g, soaked and squeezed dry
Hao Chi seasoning ¼ tsp
Ginger 1 cm, cut into 2 slices
Sugar ¼ tsp
Dark soy sauce ½ tsp
Garlic 8 cloves, whole and peeled
Lettuce 100 g, tear into bite sizes and chill
-----------------------------------------------------------------
Braising stock:
Mushroom liquid 600 ml
Knorr Chicken cube ½ tsp
Oyster sauce ½ tbsp
Salt ¼ tsp, to taste
White pepper a dash
Soak mushroom in 600 ml water for 30 minutes. Squeeze dry and retain water for further use.
Saute garlic until golden brown. Drain and set aside. Keep oil for step 4.
Dry-fry mushroom in a dry wok until slightly dehydrated.
Increase heat. Add oil, lily flower, black fungus, ginger, sugar and Hao Chi seasoning. Fry for another 3 minutes.
Add stock and simmer until thickened.
Add dark soy sauce and garlic. Stir and transfer to a serving plate.
Meanwhile, arrange lettuce at the bottom of a serving plate.
Pour mushroom stew over lettuce and serve hot.
Find out what's everyone saying